Race Course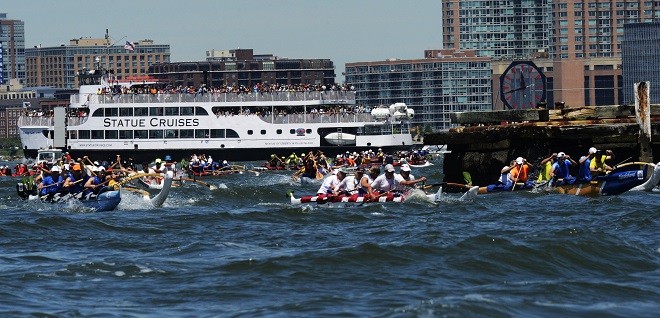 The 2016 Hawaiian Airlines Liberty Challenge course start/finish was located at Hudson River Park's Pier 26. After the start crews paddle south along Manhattan's westside to the Battery at the island's southern tip. After the Battery Men's Race and Women's Race crews continue along the Manhattan shoreline into the East River, past the Brooklyn Bridge, before crossing east to Brooklyn in front of the Manhattan Bridge. After crossing to Brooklyn, Men's and Women's crews continue south along Brooklyn Bridge Park and into the Buttermilk Channel between Brooklyn and Governors Island. Mixed race crews do not enter the East River and travel south to Governors Island immediately after the Battery. After rounding the southern end of Governors Island, crews paddle west across New York Harbor towards the Statue of Liberty.  At the Statue, crews turn north, padding Ellis Island and Jersey City. The race continues north up the Hudson River along the New Jersey shoreline past Hoboken before crossing back to the Manhattan shoreline at the Empire State Building, at which point crews head south along Manhattan to the finish at Pier 26 in Tribeca.
Women's Race – All Divisions
Distance: 15 miles, Launch Time: 6:15, Start Time: 7:00
Men's Race – All Divisions
Distance: 15 miles, Launch Time: 10:45, Start Time: 11:30
Mixed Race – All Divisions
Distance: 12 miles, Launch Time: 14:15, Start Time: 15:00
Course and times may change on account of weather and other safety factors.