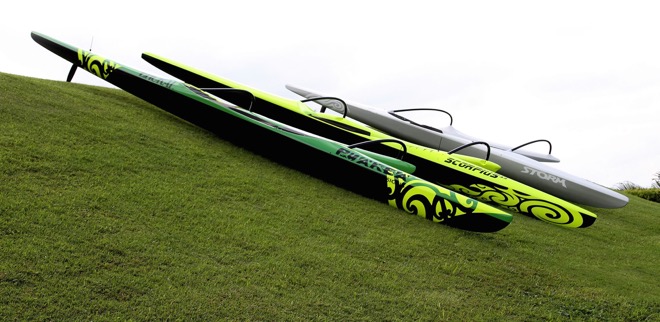 New York Outrigger is proud to announce Outrigger Zone as a Krevey Level Sponsor for the 2016 Hawaiian Airlines Liberty Challenge.
---
About Outrigger Zone

Outrigger Zone has been designing and building Hawaiian outrigger canoes for over 20 years. We build the Kahekai, Ares, Antares, Ehukai, Storm, Hurricane, Tempest and Scorpius. Our latest products are OC6 canoes, the Vortex and Malolo. We are passionate about bringing outrigger canoes to the world that are lighter, stronger, faster and accessible to paddlers worldwide.
Ozone was founded by designer and creator Mike Giblin. Mike is a wall street dropout, finding his passion in paddling, creating canoes designs and raising his family of four. Based in Maui, Hawaii the mecca of ocean sports and home to a strong and inspiring paddling community. Mike's wife Wendy, is the engine that keeps this 'ozone canoe' moving, her commitment to customers and our dealer network is a big part of what makes it work. Brian Dalbey, Mike's brother-in-law, is the Production Manager and runs the factory. With many years of ocean sports and fabrication experience, Brian has been able to construct the strongest and lightest products on the market. Our factory is an industry example of what can be done by a small, private and mission driven company. To be able to spread Outrigger Canoe paddling from Hawaii to every corner of the globe is a privilege and the reason for us to do this work.
Most recently Mike Giblin has been working with his brother-in-law Alex Aguera to create the GoFoil, a ground breaking new product. The GoFoil is an example of innovation and forward thinking that has exemplified Mike Giblin and his work.
Ozone canoes include Kai Wa'a and Puakea Designs, who's canoe designs are both visually stunning and deliver a strong performance. Working with Kai Bartlett and Johnny Puakea has been an honor, both legends in the sport and keenly tuned into the growth and development of canoe paddling. Our dealer network spans the globe, yet we know each dealer personally and work closely together.
We are committed to creating a great experience for our customers. Our new Ozone Inventory System, OIS, vastly simplifies finding the right canoe from concept to delivery. We, the paddlers and designers of ozone, are available via phone, email and online chat to answer your questions. Born from the love of the ocean, we hope to share the experience with all those who would venture.
outriggerzone.com
facebook.com/outriggerzone
instagram.com/outriggerzone
twitter.com/outriggerzone
Category: 2016, Homepage News, Press Releases, Sponsors, Vendor